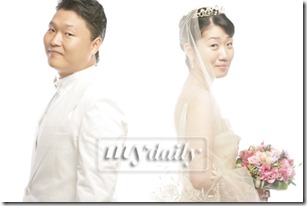 A year ago, "Gangnam Style" was spreading like wildfire around the world, and for the first time a South Korean music star was making headlines in the United States. The name PSY came under the spotlight and after a few million views in YouTube we were all convinced he was here to stay.
The dancing sensation PSY a.k.a Park Jae-sang has become left us everyone wanting more of his eccentric, quirky but viral moves! We quickly learned he was actually far from being a newcomer on the music scene.
But who is behind the singer, songwriter, rapper, dancer, record producer and television personality?? What do we know about his real self??
The singer of the smash hit "Gangnam Style" married On October 14, 2006 when they were both 29-years-old. PSY married Yoo Hye-yeon, his girlfriend for three and a half years. Yoo Hye-yeon and hubby have music in common; she was a cello major at Yonsei University in Seoul, South Korea.
According to publications the couple was introduced by mutual friends. They were boyfriend and girlfriend for around three years, tied the knot and became parents! Circle of life huh! PSY and wife have twin daughters together.
The now 35-year-old is worth about 25 millions, but for him and his family wasn't always good times, but his wife Yoo Hye-yeon was always there to encourage him. In 2010 after serving the military; it was Yoo Hye-yeon who told him to join a south Korean music label in which he released hi fifth studio album.
Yoo Hye-yeon might not appear on camera as much as her hubby does but PSY is certainly not shy when it comes to talk about her, during an interview he said of his wife of 7 years:
"She is the type of wife that all men are envious of,"
Known of his classy attire and cheesy moves, the family man sounds pretty happy with his five-year-old twin girls and wife, you would think everything is going just great with him but during a revealing interview he calls "alcohol his best friend"
We know how crazy the life of a star can get, do you think the darker side of PSY might win this time?? Or hi wife and family will keep him grounded?
Are you following PSY already? You can find him here.