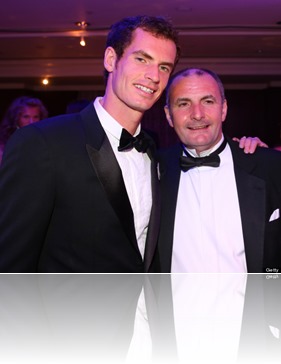 The UK waited so long to see one of it's children win Wimbledon Fred Perry won the title in 1936, it took 77 years for another British tennis player to win Wimbledon,  Andy Murray defeated Novak Djokovic in three straight stets. As you can imagine the excitement in every British spectator was palpable and contagious, media's attention  was not just in Andy, but also his girlfriend Kim Sears an mum Judy Murray were in every paper, but what about his old man? Willie Murray, Andy's proud father was with him at the Champion's Ball.
Andy Murray, was born to the lovely Judith Murray aka Judy Murray his former coach and current captain of the British Fed Cup team got married to Willie Murray in the early 80's. They welcomed their first son Jamie on February 13, 1986 and Andy on May 15, 1987.
Young Murray was just nine when his parents split up, their divorce was finalized in 2005. While Judy is a constant face in Andy's matches Willie is hardly seen, although he continues to be his sons inspiration.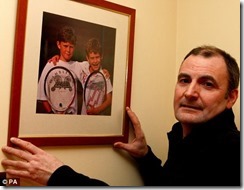 When Willie Murray was still married to Judy and  before Andy's birth he moved his family to Stirlingshire town of Dunblane because of his retailing job. He once claimed Judy walked out on him and his sons, leaving him to raised the boys all by himself.
"I kept the family home and looked after them for the next four or five years. A lot of people don't realise that because the story isn't portrayed that way. That's fine by me because the boys know exactly what happened."

"Since Andy and Jamie have been in the public eye for the last couple of years, Judy has always been there with them. That's just the way it's worked out and I'm not the kind who runs out and demands publicity.

"To me, it's just about Andy and Jamie. They are the people that count and as long as they are happy, that's all that matters."

"Most people get the impression I was an absent father. That was not – and is not – the case. I'm happy to stand back in the shadows so long as the facts are right."
58-year-old Willie Murray still lives in Dublane where he manages a chain of newsagents, he also takes time to see his son's tennis matches.
Willie moved on eventually, but only when his sons were older and he was manager for the Scottish newsagent chain RS McColl, that he began to date an optician named Sam Watson, 47, a mother of two girl and his girlfriend until this day.