The details surrounding the tragic death of actress Lisa Robin Kelly have now been tagged as "mysterious" several publications say Kelly's death may not be as black and white as it seems!
Authorities are now reportedly treating her death as 'suspicious' the L.A. County Coroner and the L.A. County Sheriff are now conducting separate investigations to determine the exact cause of death; this was first said to be due to an embolism.
The 43-year-old actress died in her sleep on Wednesday while staying at a treatment center for alcohol abuse; no death certificate have been released or any cause of death has been confirmed, It's unclear whether there were any drugs in Kelly's system, although the facility does does claim she was on detox drugs of some kind.
Many question are being raised just a few days after her passing; like who was her boyfriend? who is the guys she was dating in her last days alive?
Kelly's new boyfriend had checked her into the hospital with a .34 blood alcohol level, which is borderline fatal. Kelly then voluntarily checked into Pax Rehab House in Altadena, Calif. On Tuesday and died on Wednesday.
On August 15, some kind of a statement was posted into her Facebook wall, that read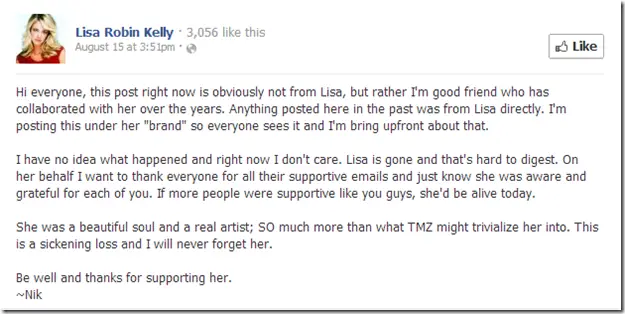 As we can see, it signed by just "Nik" the post that has over 200 comments also replies several times and says he is not her rep and identifies as "the most neutral person in her life"
Can this guy "Nik" be her boyfriend? Well boyfriend or not he certainly knew the actress very well and says very nice things about her.
No new information is expected to be released, per the Sheriff's orders, until this investigation is complete. But in the meantime, Kelly's ex-husband and boyfriend continue to point fingers at each other regarding who is more to blame for Kelly falling so far off the wagon, which i s actually really sad. Gilliam and Kelly had a rocky relationship history. Both had been charged with assault on multiple occasions for loud and violent fights.
And just as her rep said in a statement the truth is the 43-year-old had been battling with demons for many years and sadly she lots her battle.
"I am clean and sober and I have made a lot of progress. I am completely innocent. I just want to start working again."
The actress said last year. You can find Lisa's twitter here, may she rest in peace.