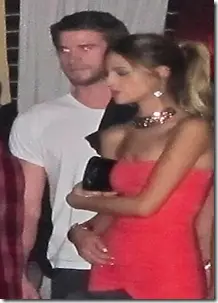 It shouldn't be such a shocker to find out Hunger games star Liam Hemsworth and Miley Cyrus have decided to "call it quits" a.k.a break up. The poor guy can take to an extent right!
We definitely don't see this picture often where you have the serious young actor with a famous girlfriend gone wild; but when you look at how crazy Miley has been acting, she has done just about everything in her power to remind fans that she's no longer the cherubic Disney star audiences came to know and love on Hannah Montana; what's next get arrested? You almost want to side with Liam and say "Hey you can do better" or something in that sense!
The couple was last seen together at the premiere of his movie Paranoia in August but their relationship is reportedly in trouble! And to make rumors even bigger Liam has been spotted with a new girl! And she is hot!
Liam and Mexican beauty Eiza Gonzales were spotted having the time of their lives at VIP club Bungalow in Las Vegas on Saturday night. Liam was accompanied by an entourage of friends but he and the gorgeous woman later separated to spend some one on one and never left each others side during their date night. So, somebody had a fun weekend, besides enjoying the fight between Mayweather vs. Canelo the "Paranoia" actor also enjoyed the company of his new lady of interest!

So who is the blonde, leggy, hotness?? She is her daughter's mother for sure! Eiza is the daughter of former Mexican model Glenda Reyna.
Gonzales was born January 30, 1990. It appears Liam has a thing for talented girls, just like former fiancee; Eiza is also a double threat she is a singer and actress and has done some modeling as well. She made her acting debut at age 16 with her portrayal of Lola, the lead character of Mexican telenovela, Lola…Érase una vez (Lola…Once Upon A Time).
Since then she has starred in five Spanish T.V series and two movies and every body knows who she is in her native Mexico, she has over 750,000 followers on twitter.
The 23-year-old also lent her voice to the Spanish speaking 2013 version in 3D computer-animated adventure comedy film, The Croods.
The stunning girl has also released two studio albums and has been the singer for telenovelas soundtracks.
Gonzales who was born in Caborca, Sonora, Mexico has been active in the industry since 2007, she has a singing contract with EMI Televisa Music since 2009 and also with Capitol Latin since 2012.
Her father lost his life in a tragic car accident when she was twelve years old.
The girl who is a huge star in Mexico was also partying in Vegas on the same weekend as Liam so could it be a coincidence or was it all planned out?? She is also single after all, she and boyfriend of two years Mexican entrepreneur Pepe Díaz broke up in August!
At some point the two were seen gazing into each other's eyes so definitely "love was in the air" and fiancée Miley was not the topic of conversation. The woman was seen very comfortable in Liam's company, she smiled at him while siting on a cabinet.
So could it be Liam has already moved on? Would you like to see him with someone else? What do you think of the new chick?
Follow gorgeous Eiza Gonzales on twitter here, instagram here and don't miss her video below!