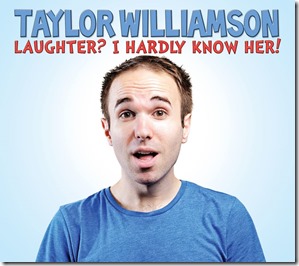 Funny guy on Americas' Got Talent Taylor Williamson uses his personal life as laughing material but is there any truth to his jokes? Is he gay? Is he dating anyone? Maybe a hot girl? or dude? Maybe both?
The 26-year-old stand up comedian became the youngest person to perform on The Late Late Show with Craig Ferguson. He started dabbing into comedy at an early age, while he was a senior in high school in Del Mar, California.
He has nearly 50,000 followers on twitter where he tells us
I'm going to lose on America's Got Talent, I host a silly podcast & I hope you buy my comedy album so I can continue to eat food and not die.
Always the comedian right!
People has enjoyed is talent in the "Just for laughs comedy festival" in Montreal and now as part of season 8 of America's Got talent. He is hoping to get people to hear more about him since he hasn't been that lucky. His previous wok on MTV's TRL and Comedy Central's Live at Gotham were both canceled.
His performances have been consistently strong enough for the judges. He was also a semi-finalist on final season of NBC's Last Comic Standing that was also canceled but the good thing about being a comedian is that Taylor looks at the "bright" side of things,
I look forward to ending more TV shows in the future.
So we know girls have love for the funny guys, even thought if they are as skinny as Taylor. He could pretty much laugh his way through it. Williamson has stated before during performances he is not gay so we are waiting to meet a special lady soon! You know it could be new material for him.
The California native has gained his fans for sure. Do you think his romantic life is as bad as he says? We think not!
Look him up on Facebook here and twitter here.