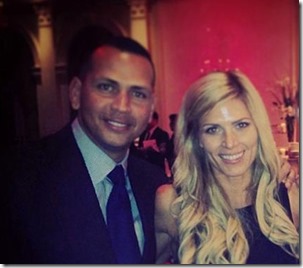 Wow! As if he needs more drama! According to reports, the disgraced New York Yankees third baseman-A-Rod-was busted in the ladies' room of the Delano Hotel in Miami with a woman! Ok, that is not exactly drama but then again, it kind of is when the woman he was busted with, is not his girlfriend!
The 38-year-old has been dating body builder Torrie Wilson for a couple of years now, and this move is certainly not his brightest moment! We don't even want to start thinking about what model, fitness competitor, actress, and retired professional wrestler girlfriend, Torrie will do to him!!
Online reports indicate he was not alone and had been dining at the UMI Sushi & Sake Bar at the trendy South Beach hotel on Saturday night with an entourage. He certainly had a fund weekend! Sources say Alex was first spotted getting hot and heavy with the unidentified woman near the elevators in the hotel lobby early Sunday morning. With the duo's engine's already running high they soon disappeared into the women's bathroom, where we hear they spent nearly 20 steamy minutes! The steamy encounter was sadly interrupted by another hotel guest.
A-Rod who is facing suspension over his performance-enhancing drug scandal, has been dating Wilson, a former Playboy model and WWE wrestler, since late 2011, following his high-profile breakup with Cameron Diaz.
A rep for the Delano, part of Morgans Hotel Group, said,
"We don't comment on guests on property. The property has no knowledge of the situation in question on Saturday evening."
So what do think? Is there any truth to the latest allegations? Unfortunately for the Yankee, his past involving affairs with hookers and strippers along with "a grand-slam sex drive" doesn't help much in his defense! Faithfull appears not to be in his vocabulary either, Rodriguez's dalliances with city strippers also were well chronicled during his six-year marriage to Cynthia Rodriguez, which ended in 2008. We were only wondering who was the gal, the baseman gave some one on one attention this time!