Talking about "What was he thinking moments" This was a major whoops for singer Miguel last night at the Billboard Music Awards. Call it excitement, an adrenaline rush, he felt his shining moment…whatever you might want to call it but man did he make some major miscalculation on his quest for awesomeness!!!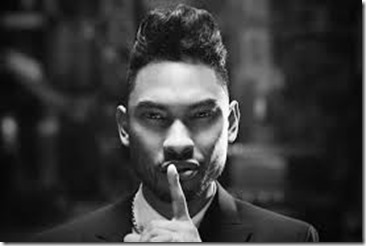 The hyped performer took the stage at the MGM Grand in Las Vegas to rock his 2012 fan-favorite "Adorn," with his usual rock star flair, but at the tail-end of the song a mistimed jumped turned into what looked like a painful accident when Miguel landed on top of two fans!!
Just as the tune was winding down, Miguel launched over a pit of fans hoping to clear the crowd and land cleanly on the other side of the stage. Instead he caught a young lady with his right leg, smashing her head into the stage and kicking another in the head with his left leg. Ever the professional Miguel continued to sing, though with a concerned look on his face. "Let my love adorn you," he belted out.
The rest of the singer's show went off without a smear. Dressed in a white suit, Miguel roamed across the stage sliding his microphone to and fro, while  stage light set a sexy mood.
After the performance Miguel took the girl backstage with him and took to Twitter to let the viewers know that she was alright. That was the least he could do after landing on top the unlucky girl named Khyati. An embarrassed Miguel wrote on twitter

This girl should receive free tickets for life to his shows after what she went through! And what was he wearing were those man boots???
Well you don't have to believe me, hit the play button to watch Miguel landing on his fans. Ouch!! Miguel!