Several spectators watch in horror as one of the cars racing at high speed at he Daytona speedway  were involved in a multiple car-crash, one car was sent flying towards the fence, inuring several spectators.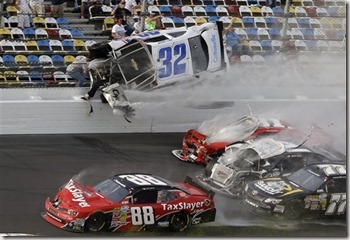 Kyle Larson's car  crash into the fence that separates the spectators from the race track, the car broke into pieces sending big pieces of debris including tires and the car engine to the stands injuring many. Larson however was not injured.
At least eleven people were injured, six people with serious injuries were taken by ambulance to Halifax Health Medical Center in Daytona Beach.
"Those six met the condition of trauma patients," Byron said, adding one person was also taken to Halifax in Port Orange. That injury was not serious. There obviously was some intrusion into the fence and fortunately with the way the event's equipped up, there were plenty of emergency workers ready to go and they all jumped in on it pretty quickly," NASCAR President Mike Helton said. "Right now, it's just a function of determining what all damage is done. They're moving folks, as we've seen, to care centers and take some folks over to Halifax Medical."