A brand new twist of events ladies and gents! Warren Lahoud, sounds familiar? Maybe not but what about deceased Reeva Steenkamp?? I bet that name sure rings your bell!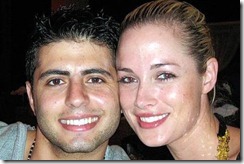 In an unexpected turn of events police found out that girlfriend model shot by Oscar Pistorius at his home in Pretoria met up with her ex just two days before she was tragically and brutally killed! Who's the fellow in question now, let's meet Warren Lahoud.
Warren is a business man, he is 27 years old and he dated the model for almost 5 years! Wow that's a long time, enough to get to know each other pretty well. Can you imagine his shock to learn she was death just two days later after hanging out? But what cause them to end the relationship?? And even more why did they meet?? Aren't you suppose to end any type of communication and move on?? Even more when you are involved with someone else and have a serious relationship?? You know just to avoid all that ..fall into temptation kind of stuff.
Ok, since this is a case being investigated by the police luckily we have answers! now whether are true or not…you be the judge.
According to Warren they shared a very good relationship with no serious problems they just felt it was the right thing to do but remained close friends; now about the date they allegedly exchanged text messages to meet and up to her murder and that day only had a coup of coffee like you would with an old friend so no hidden intentions there.
Now funny fact here, while Lahoud was with Reeva, Pistorious current boyfreind at the time called her twice; which Warren thought something might be wrong but when he asked the model she simply said "there is nothing wrong"  Now another question comes to mind..did the Paralympic star know his girl was with Warren?? Was he upset about it??
Devastated to hear the news, Warren only has the best things to say about Steekamp and surely remembers her fondly;
"There were so many good things I can remember of her," Lahoud said.

"Reeva was a very compassionate person. With any man she could sit around a table and could summarize them immediately; she was very loving and extremely afraid of any conflict situation; she did not like a fight. She would rather go out and wait until things calm down and then like a normal human sort things out, "
What else do we know about him; he runs a South African vegetable exporting business. You can follow him on twitter here, and see how he describes himself as an outdoor person, enthusiast, stubborn and his fav drink might be whiskey on the rocks? Yum..
But what strikes the most he sure seems one good gentleman; when questioned about Pistorius facing premeditated murder he said:
"I do not think I am in a position to say anything; I would rather leave the right people. I obviously  have some feelings, but it's not for me to comment"
I mean, that was his chance right, he could have said anything to Oscar but he chose to be as level headed and to keep things as calm as possible. Good for him!
Read more about Warren  here