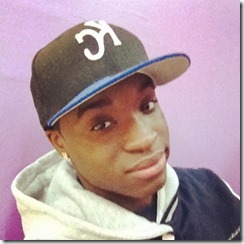 It appears it was "let's play a joke on Trayon Christian day" not! A 19-year-old Trayon Christian, a teenager from Queens, New York, says he was arrested after he purchased a $349 belt at Barneys using his debit card! His crime? Well, you be the judge.
This what went down, last April, a salesperson at the chic and upscale famed retailer, Barneys New York, summoned police to arrest a black teen, all because it was assumed he could never afford the Salvatore Ferragamo belt he purchased with his Chase debit card. The simple minded clerk thought how could a young black youth afford such a pricey belt? It never occurred to he or she, to think The 19-year-old pined for the luxury purchase ever since he saw Harlem rapper Juelz Santana sporting it! So Christian, who attends the New York City College of Technology, saved the his earned money from his part-time job to buy the belt from the luxury Madison Avenue store.
For the looks of it, Trayon A. Christian happens to be a fashionable young man, here some of his pictures.
So what's wrong with a young brother wanting to look at his best! Now a days is common for young kids and everyone really, wanting to imitate favorite artists and their style. But even though when he presented his state ID to the cashier, undercover police officers still hauled him to jail because they thought it was surely a fraudulent purchase, kind of despicable of our society. Christian, who has no arrest record, was taken to a local precinct and there, officers called Chase Bank to verify that he was the rightful owner of the card; they released him afterwards.
Trayon who's experience was not only extremely distressing but embarrassing has now taken action, he lawyered up and has filed a lawsuit with the Manhattan Supreme Court and is suing both Barneys and the NYPD after they accused him of stealing the debit card to buy the very expensive designer's belt.
The engineering student at New York City College of Technology who's only desire was to get his silver buckle and a reversible black and white strap Ferragamo belt has now returned it to the store.
Find Trayon on Facebook here.