David Beckham has retired from football! Yes, the 38 year old has retired after 20 years and is a sad moment in history both for men and women all around the world! He came to become one of the most famous players of all times. He lives behind great and outstanding memories, both on the pitch and off it. Let's remember 10 of them! As we salute the one and only David Beckham.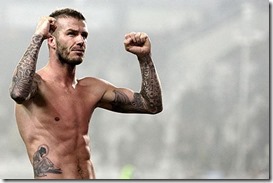 Through out his career he has won six Premier League titles, two FA Cups, the Champions League, La Liga, two MLS Cups, various MLS Western Conference titles and finally Ligue 1.
Here we take a look back at the roller coaster ride Beckham took us on throughout his glittering career with Manchester United, Real Madrid, LA Galaxy, Paris Saint-Germain, AC Milan and England!
Let's take a ride along with him in time:
1- Winning the FA Youth Cup – 1992
A Manchester United team that included Gary Neville, Nicky Butt and Ryan Giggs overcame Crystal Palace 6-3 on aggregate with Beckham scoring in the second leg of the final.
2-Scoring from the halfway line – 1996
On the opening day of the 1996/1997 Premier League season came a moment of brilliance that made him a household name.
3- Winning the treble with Manchester United – 1999
A Premier League and FA Cup triumph was followed by the Champions League title, after a dramatic night against Bayern Munich in Barcelona.
4-Becoming England captain – 2000
Following Kevin Keegan's departure as Three Lions coach, Peter Taylor took the job in a caretaker capacity, and it was Taylor who first gave Beckham the captain's armband.
5-Free-kick v Greece – 2001
Beckham's work-rate in the second half was incredible and he then produced a moment of magic to curl in a 93rd minute free-kick from 25 yards out, leaving the Greek goalkeeper Antonios Nikopolidis with no chance.
6-Penalty v Argentina – 2002
His transition from villain to hero was completed with the winner from the penalty spot against Argentina in the 2002 FIFA World Cup group stage.
7-Winning the Spanish title – 2007
What was remarkable about Beckham's La Liga title success with Real Madrid was that the then coach, Fabio Capello, had said he would never play for the club again after his move to LA was announced in January. However, Beckham fought his way back into Capello's first team.
8-Becoming the highest-paid footballer – 2007
Beckham signed a $250million five-year contract with the club when he moved, which included his salary and sponsorship rights.
9- Becoming England's most capped outfield player – 2009
Beckham earned his 109th England cap in a friendly with Slovakia in March 2009
10-Winning the MLS Cup – 2011
A move to the American west coast in 2007 raised many eyebrows but Beckham's work in the MLS has certainly aided the development of soccer in the United States.