A few days Gwen Stefani's handsome hubby singer Gavin Rossdale was spotted hiking with his kids and a sexy blond girl who media said was his nanny, but it turned out to be Gavin's little sister Soyara Rossdale or at least that is what some said.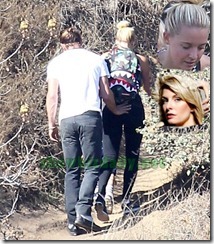 47-year-old former Bush front man Gavin Rossdale was seen inappropriately placing his hand on a blonde girl (allegedly his nanny) lower back a few days ago in West Hollywood, media began to wonder if he was cheating on wife Gwen Stefani, Radar Online said it was not the nanny but Rossdale's little sister Soraya Rossdale…. Mmmmm!! I have my doubts!!
Soraya Rossdale is the younger daughter of Douglas Rossdale and his ex-wife Barbara Bowie Stephan, her older sister is Lorraine. Soraya has two half siblings Georgina Rossdale-Smith and David Rossdale
This is Soraya..
The nanny who some said it was his sister Soraya, same girl?