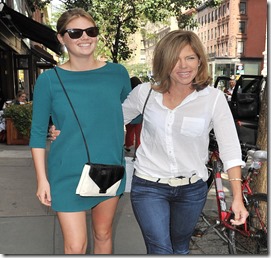 Shelley Upton is a former Texas state tennis champion and also mom to 21-year-old bombshell Kate Upton.
Shelley is married to Jeff Upton 52, a former high school athletics director; the couple have four children together. Three daughters, Christie, Laura, Kate and a son, David Upton.
She and her family lived in Michigan where daughter Kate was born. They have moved quite a bit living in Benton Harbor, MI; Saint Joseph, MI; Stevensville, MI; Satellite Beach, FL and Melbourne, FL where Kate was raised.
Have you heard "like mother like daughter" Well this is a typical case! Where Kate resembles her mother in more ways than one! Not only from a young age Kate developed a skill in horseback riding and evolved to an accomplished equestrian, the 13 and Under Reserve All-Around Champion-showing her mom's athlete gen- but also has inherited her good looks! We certainly know where Kate get's her sexiness from!
Mrs. Upton has been described before as a housewife so we assume when she got married and became a mother she dedicated herself 100% to her family. Now, we should take some notes here; being a housewife does not mean your personal image will plummet! Just take a look at Shelley a wife, and mother of four is looking amazing! Her model daughter probably learn her beauty secrets from her huh!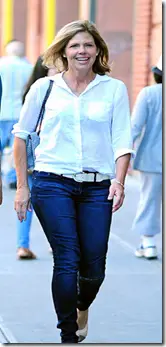 Here is Shelley on a recent outing with her daughter and we can see how she is rocking a classy look in a white dress shirt, skinny jeans and metallic cap toe flats. The blonde is for sure a modern-classy mom.
The mom and daughter duo were spotted yesterday in New York City as they headed to Upper East Side restaurant Nello where they enjoyed a meal together.
So any thought on Kate's mom? Don't they look more like sisters?
Follow Shelley's daughter on twitter here.