Meet 16-year-old Sarah Piccolo, she is a Lincoln Pius X student who unfortunately will face some serious consequences.
Yesterday it was reported Sarah was the author in the brutal slashing of a classmate's face in their high school bathroom. Police say she sliced open a 17-year-old student's face with a knife in the bathroom and then pounded on her skull with a claw hammer. The teen then drove off and was reported missing Monday morning.
I'm just scared to death,""She's out driving. She's scared. She's running. We don't know where she's at."
Her still in disbelief, father said.
Sarah was last seen driving a friend's 1992 Buick Park Avenue but was found after a 24-hour run. After police received a call concerning someone with car trouble Piccolo was located by law enforcement in Woodson County, Kansas this morning; Sarah was located, alone, and taken into custody.
She is being charged in Lancaster County Court with First Degree Assault and Use of a Weapon to Commit a Felony.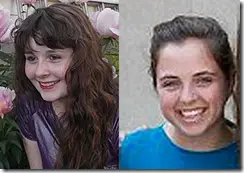 Sarah's victim is 17-year-old Ellen Kopetzky, she had to be hospitalized and underwent surgery Monday at Bryan West to treat multiple injuries from the attack and is said to be recovering with family.
No reasons have been given or explanations have been made on why the teen would do something so cruel. Sara who is described by her grandmother as a "quiet girl"  attacked Ellen, described by other students as "one of the nicest people you'll ever meet" allegedly had no record of prior issues between the two teens.
According to court documents a hunting knife with an 8″ serrated blade and a hammer were found in the restroom as the alleged weapons Sarah used during her random attack to Ellen, during which she did not say a word to her while Ellen just screamed for help.
There is a Facebook profile with her name that could belong to Sarah Piccolo of the 11th grade. On her profile she has a picture of a raven and it also says she is in a relationship with Clayton Tobin.
See the Facebook profile here.