Tyrese Robert is the name of the toddler who was beaten by a caregiver last week, according to prosecutors. The little two-year-old was pronounced dead on Friday, October 11th. 27-year-old Joey Patterson remains in jail for the death of Tyrese, he and the boys mother Ashley Doohen had just moved in together.
28-year-old Adrian Lewis Peterson better known as "All Day," "A. D.," or "Purple Jesus," from the Minnesota Vikings was believed to be the father of the victim but a man named Robert Ruffin has made allegations that he is the real father of the deceased 2-year-old.
Bobby Ruffin says he was the legitimate father of Adrian Peterson's little boy and even lashed out at the Minnesota Vikings running back, claiming that Peterson never cared for the child. Bobby from Sioux Falls, S.D., was born on May 29, 1981 and identified the boy as Tyrese Robert Ruffin claims that Peterson wasn't aware that he was the 2-year-old's biological father until the little one was already on life support for injuries sustained in an assault from his mother's boyfriend.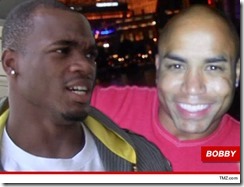 According to TMZ reports Mr. Ruffing tired of the attention AP has been getting has spoken out via Facebook regarding the tragedy:
"Yes A.P. he was the biological father but I raised him and he carried my name. Tyrese Robert Ruffin. I don't blame AP for not really caring cuz him and I both found out recently who the biological father was." "AP met my son for the first time yest when my son was already in coma. I was here today when we pulled the plug, not him. He was happily practicing and has no problem playing on Sunday."
According to his Facebook account, Robert moved in from Spain in 1991 and currently lives in Las Vegas, NV. The 32-year-old clearly hurt but this saddening situations continued
"So yea this isn't all out yet but I'm sick of the poor AP sh*t. He didn't know or even meet my son. Sorry for the outburst but put yourself in my place."
Ruffing who used to live in Mallorca, says he raised the little boy but was not in a relationship with the boy's mother who's identity is yet to be revealed. On October 12th he changed his profile picture to an Elmo cartoon image that read "O' the places you'll go Tyrese"
On one hand you have we have Ruffin who raised Tyrese but on the other famous NFL player AP who was the biological father, who should be appointed as the boy's father then?
Find Bobby Ruffin on Facebook here. Our deepest condolences go out to all the family members.