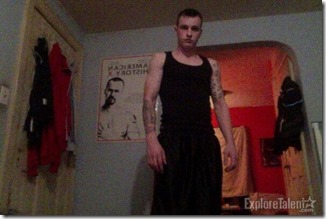 An aspiring model 5'10" tall, athletic body, brown hair and green eyed, that is what acting/modeling profile at Exploretalent.com. says about our latest shooter. We are talking about 20-year-old Richard Shoop who has been identified as the gunman who opened fire in a New Jersey mall last night.
Mayhem was formed just before closing time yesterday when authorities said a man dressed in black and wearing what is believed to be a motorcycle helmet fired shots. There were no injuries. Witnesses said the sound of gunfire sent customers and employees rushing hysterically for the exits and hiding places at the mall, which will be closed on Tuesday.
Bergen County spokeswoman Jeanne Baratta told the AP that SWAT teams concentrated their search in the northeast corner of the 2.2 million-square-foot mall, near a Nordstrom store, believing the suspect might still be in the mall. Hundreds of law enforcement officers converged on the mall, which was put on lockdown. New Jersey State Police landed a helicopter in the parking lot and SWAT teams with K-9 units went through the mall and evacuated anyone who was still there.
After Shoop opened fire at Garden State Mall Plaza and the search was completed, only one shell-casing was found, contradicting witness claims of multiple shots fired. Richard who is reported to be a worker at a local restaurant in Teaneck was believed to have fled the scene but all that change when his lifeless body was found at 3:20 a.m. Tuesday morning in a "back area" of the same mall where he unleashed terror on Monday night.

The son of Charles Shoop had a tragic ending when he was allegedly found dead of a self-inflicted gunshot wound. When police arrived to Richard's residence in located at 534 Emerson Avenue in Teaneck, New Jersey The New York Post reported that police raided the suspect's home in Teaneck early Tuesday morning and encountered his father, Charles Shoop, who dropped to the ground and told police he was not armed before shouting:
"Is this because of my son Richard at the mall? I am heartbroken over this! He called me! This is my f–king kid! You have no f–king idea what I'm going through! Just imagine if this was one of your kids."
Richard, who according to his modeling and acting profile was interested in different types of castings and auditions including: interested in Commercial Auditions Non SAG, Episodic TV Pilots, Feature Film Casting Non SAG, Feature Film Casting Student Films, Feature Film Casting Short Film Projects, Feature Film Casting Documentaries, Feature Film Casting Low Budget Independent Films, Modeling Jobs Runway, Modeling Jobs Hair Cosmetics, Modeling Jobs Print, Music Jobs Videos, Theatre Auditions Non Equity, Trade Shows Promotional Modeling Jobs, Internet Jobs, Extras Casting- allegedly killed himself with the same weapon he used at the mall and that a note was found, CBS reports.