The actress in the infamous film Innocence Of Muslims Anna Gurji, is disturb by the reaction the movie caused, especially after the movie caused so much rage in Libya and Egypt that four innocent men loss their lives.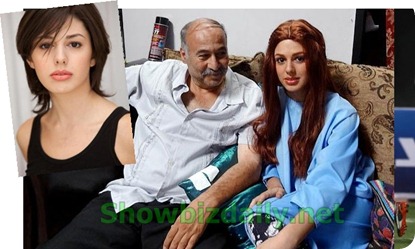 21-year-old Anna Gurji was born Anna Giorgobiani on April 1st, 1991 in Tbilisi, Georgia, Russia to the 58-year-old movie director Besarion Giorgobiani and Nana Eremeishvili Johnson, she has one sister Khatuna Giorgobiani a film director, producer, screen write and production designer (some of her credits are Only One minute and If This Day Never Happened).
Her acting career began when she was just a little 6-year-old girl and appeared in tons of t.v commercials and landed her first role in a documentary.
In 2006 at the age of 16 she appeared as Anna in the short film If this Day Never Happened which was directed by her sister Khatuna, two years later Ms. Gurji landed her first role in the United States in Signals as Afanasiia, that same year she portrayed Cinka Panna in the film under the same name, in 2009 she appeared in Sendpoint.
In 2010 she appeared in Miguel Coyula's Memorias del Desarrollo (based on the Cuban revolution), had two small roles in Christmas Eve, Wild Ride as was credited as the young woman in the 2010 short film Loverly,, The next year she made a cameo in the 2011 television series The Being Frank Show.
This year  Anna Gurji appeared in Freaky Deaky as Ivanna, Kessle's Lab and certainly in Innocence of Muslims which Gurji said she landed a part in the film as a supportive actress "Hilary", the movie which she was told was named Desert Warrior was about a comet falling into a desert and different tribes in ancient Egypt fighting to acquire it for they deemed that the comet possessed some supernatural powers.
Her character Hilary was sold against her will by her parents to George, who she later found was MUHAMMAD, although nobody never mentioned it to her  or to the other actors, This is an excerpt of Anna's letter explaining her role in the film..
I, Anna Gurji, as one of the supporting actresses in the film will share with you what really happened. A year ago, in the summer of 2011, I submitted my materials to various projects on the Explore Talent web-site. I received a call from the casting director of the movie "Desert Warrior", and my audition date was scheduled. I auditioned for the role of Hilary. Several days later, I was informed that I got a callback. I did the callback. Several days later, I was informed that I landed the role of Hilary in the movie called "Desert Warrior".

The filming of the movie was done in August of 2011. We were filming the movie in a studio warehouse with a green screen in Duarte, CA. The project was a low budget, independent feature movie.

The filming of the movie was beginning soon after the day I was told I got a role. The script was not sent to me. When I got to the set, I was merely provided with the scenes my character was in.

I did not consider this to be an unusual thing, seeing as I have had an experience with something like this before. I did a movie once where the script was written in a foreign language and only my parts were translated into English and accordingly, I was provided with my scenes only. Having experienced that, I thought the same thing was happening with "Desert Warrior". Aware of the fact that the supposed producer and the script-writer of the movie (known as Sam Bassil) was a foreigner (thanks to his accent), I thought that the original script was written in his native tongue and that not all scenes were translated into English. Also, the filming dates of the movie had to be rescheduled last minute to fit my schedule (I had other films to do right after the "Desert Warrior" outside CA). Because of this rushed rearrangements, I thought that the production first forgot and then did not consider it necessary to send me the script, and again – I did not find this unusual, since I knew what role I had, I knew about my character and I knew about the story of the film.

My character Hilary was a young girl who is sold (against her own free will) by her parents to a tribe leader known as GEORGE. She is one of his (most likely, the youngest) brides in the movie.

The film was about a comet falling into a desert and different tribes in ancient Egypt fighting to acquire it for they deemed that the comet possessed some supernatural powers.

The movie that we were doing in Duarte was called "Desert Warrior" and it was a fictional adventure drama. The character GEORGE was a leader of one of those tribes fighting for the comet.

There was no mention EVER by anyone of MUHAMMAD and no mention of religion during the entire time I was on the set. I am hundred percent certain nobody in the cast and nobody in the US artistic side of the crew knew what was really planned for this "Desert Warrior".

The atmosphere at the set was as friendly as possible. We all knew that we were doing an adventure drama for a very low budget financing. The director Alan Roberts even had plans that with this low budget product he would be able to get some more money to make a good quality version (by shooting it in the real desert and having better product in every category) of the "Desert Warrior".

I had interactions with the man known as Sam Bassil on the set. He was very amiable, respectful, soft-spoken, always making sure that the filming was running smoothly and everyone was satisfied. He even told me the premiere of the movie was going to happen sometime soon and I would get a good amount of tickets to invite my friends and family.

I have never been informed about the premiere after that (if it ever happened) and have not seen the final product (if there is any, except for the short one that is uploaded online).

People ask what's my reaction after seeing that.

Shock.

Two hours after I found out everything that had happened I gave Inside Edition an interview, the duration of which I could not stop crying.

I feel shattered.

People who were tricked into believing that we were making an adventure drama about a comet falling into a desert did nothing but take part in a low budget indie feature film called the "Desert Warrior" that WAS about a comet falling into a desert and tribes in ancient Egypt fighting to acquire it.

It's painful to see how our faces were used to create something so atrocious without us knowing anything about it at all. It's painful to see people being offended with the movie that used our faces to deliver lines (it's obvious the movie was dubbed) that we were never informed of, it is painful to see people getting killed for this same movie, it is painful to hear people blame us when we did nothing but perform our art in the fictional adventure movie that was about a comet falling into a desert and tribes in ancient Egypt fighting to acquire it, it's painful to be thought to be someone else when you are a completely different person.

Like I explained to Inside Edition, I feel awful.. I did not do anything but I feel awful.

I feel awful that a human being is capable of such evil. I feel awful about the lies, about the injustice, about the cruelty, about the violence, about the death of innocent people, about the pain of offended people, about the false accusations.

I don't know what else to do but speak the truth. I will not go into hiding (since I have nothing to hide), because if we don't speak the truth, there is no world worth living for.
Anna Gurji's next film projects are Something's in The water, Windsor Drive in 2013 and Heart Stopper, Wicked Games in 2014. You can find her on Facebook here, her personal website is here
Cindy Lee Garcia another actress in Innocence of Muslims said her life and the lives of her family have turned upside down, she has been received terrible death threats. She added that the lines she had were allegedly manipulated by the movie's maker Nakoula Basseley Nakoula who we first knew by the fake name Sam Bacile. Like Garcia Way TV and Media for Christ's Joseph Nassralla has been a victim of death threats.
Anna Gurji Video