Meet Paula Profit, many of you are familiar with her name or the other name some people know her by Paul Speert, she was Charlie Sheen high school sweetheart,  first wife and mother of his eldest daughter Cassandra Jade Estevez Huffman who is expecting her first child making Charlie and Paula soon to-be grandparents.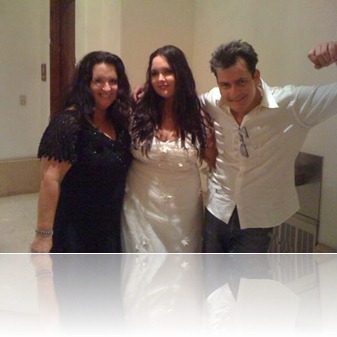 47-year-old actor Charlie Sheen has said "I Do" four times, first was to our girl Paula, then on September 3, 1995 to Donna Peele they didn't have any children, she filed for divorce 6 months later when he was named among Heidi Fleiss clients, then with Denise Richards on June, 15, 2005 with whom he had two daughter Sam and Lola his last wife as we all know is Brooke Mueller (May, 2008- May, 2011) mother of Bob and Max.
But this story is not abut Charlie, but about his first wife Paula Profit.
47-year-old Paula Profit aka Paula Camille Speert was born on March 27, 1965 in California, she met Charlie, well she met Carlos Irwin Estevez at Santa Monica High School, they began dating while in high school, Paula became pregnant with her daughter Cassandra shortly after graduation, she was 19.
28-year-old Cassandra Jade Estevez was born on December 12, 1984 in Cali. Her mother Paula separated or divorce Sheen and moved to Oak Park, CA.
Paula dropped her last name "Profit when she remarried to 39-year-old  Jokton Speert who is the owner and CEO of Spirited Food. In 2002 Paula began his kiddie clothes store Jackson Clay, Inc where her daughter Cassandra worked and her ex-father in-law Martin Sheen invested.
Back on September, 2008 Paula Speert was sued by a former employee Paige Snear Apar who claimed Paula struck her in the face with a wine glass.
In June,, 2008 Paula Speert created J-Play Worldwide, Inc.