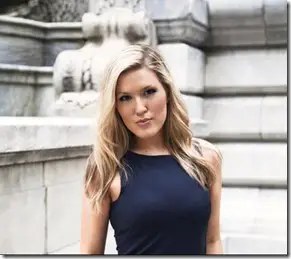 Let's meet blond girl Olivia Nuzzi, did I mention she joined Anthony Weiner's mayoral campaign? This girl that could easily pass as a model is actually a a freelance writer and student, getting interesting right! Sounds like Weiner's personal preferences.
But none of that here, Nuzzi was born in 1993, she is from Red Bank New Jersey and left home to attend Fordham University. She is the daughter of Kelly Nuzzi 51, and John Nuzzi 58; below we can see a picture of her along with her father and thanking him for giving her his "big head"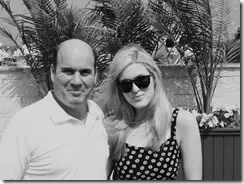 The Middletown native, now a 20-year-old junior at Fordham has expressed her democratic feelings from a young age, since high school she interned for Political Campaigns in hometown New Jersey, so when the opportunity came to join Anthony Weiner's mayoral campaign came, she though it was a no brainer.
Even close friends of Olivia thought it would be a good learning experience for her sending her links to the internship applications. And in her own words
My education began very quickly.
Olivia left the internship gig as Anthony Weiner's campaign intern a month later to begin summer classes but during that month she learned she reveals in her writing her discoveries and experiences.
The young student wrote a piece on NSFW about Anthony Weiner caller her "Monica" during her time as part of a 20 intern staff for the candidate. Her name was put out there after she shared the funny anecdote and today she is front page of the New York Daily News sharing more insights about her former intern job.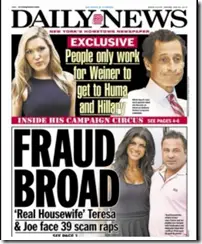 Olivia who is a former MMM columnist quickly learned on the job, she had two types of co workers, those who really believed in  a bright, innovative, impassioned and incredibly in touch with the city Weiner and, those who worked there only to get to his wife Huma Abedin and consequently to Hillary Clinton!
Miss Nuzzi who wrote on twitter "today will certainly be interesting" is certainly right; after the second sexting scandal Weiner's campaign is looking grimier than ever and although he refuses to bow out gracefully Olivia's truth revelations might not help him that much.
On another note, we can tell this girl is going places! She is smart, has something to say, funny and way better looking than most writers out there, she should be on the screen right!
In her articles we find several titles such as "Obamneycare" "Vote Anna Little For… Whatever" "Chris Christie: The Other Empty Chair" "The Boy Scout Fence" "Bullying The Boss" "Right-Wing Rx for Women" "Republican Luncheon Meat" "Beck, Casagrande & Angelini: Fictitious Fiscal Conservatives" "Casagrande's Cowardice" and most recently "THE MENENDEZ SEX SCANDAL: A DEMOCRATIC PLOT TO DISCREDIT THE DAILY CALLER?"
You can follow Olivia Nuzzi on twitter here and find her on Facebook here.