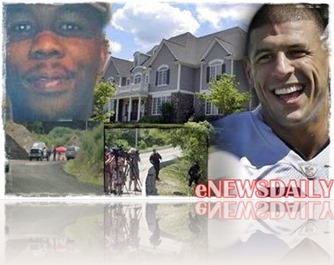 The bad news are not yet over for the NFL player with the New England Patriots Aaron Hernandez, a man identified as Odin Lloyd was found dead close to his home, and while Hernandez has been named a suspect, we have been told Lloyd was believe to be a former associate of Hernandez and the boy of his sister in-law.
According to media 27-year-old Odin Lloyd was born on November 14, 1985 once dated 21-year-old Shaneah Jenkins, who is the sister of Shayanna Jenkins, the girlfriend and baby mama of Aaron Hernandez, however when or how long Odin and Shaneah dated is unknown, media reporter they were dating, her profile on Facebook said otherwise, but her profile on MySpace said that she is currently in a relationship..
Shaneah (left) Shayanna (right)
Some people said Odin Lloyd was an associate of the famous NFL player, others said that Odin said he was friends with Hernandez and other Patriots players. Lloyd graduated from Boston high school and was currently living at his uncle's house in Dorchester.
Odin Lloyd was the linebacker with the jersey #53 with the Boston Bandits.
In one of Odin's social profiles he talked about himself…
I just wanted to start off by saying hello to all of my Beautiful ladies out here.I definitely want to acknowledge all of my scorpios out here., yall are whats up. Big up all my S.D.K peeps. How can I forget my Caribbean females out here.to all the sexy ladies out there If you know your looking for a man and not a boy then hit me up, I probably have what your looking for.

A little bit about me is I am about 6″0 tall and I weight about 215lb. I love to play football, and I love to party and dance. I have a couple of piercings and a tattoo. Anything more than that ur going to have to ask for urself.