She is somewhat of an antithesis to the rest of the supermodels by being skinnier and also much shorter than the others. …know who we are talking about? Yup, Kate Moss! Still rocking at 38.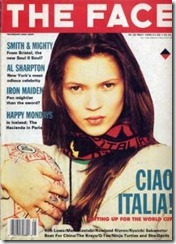 This is her first cover ever!!! What do you think??
Born Katherine Moss on January 16, 1974 to Peter Moss and Linda Sheperd, she has one sibling Nick Moss and a half sister Lottie Moss (father's side).
Kate grew up in the London Borough of Croyden and attended school close to home; Moss excelled at sport but was not much of an academic.
Can you believe that she was discovered while waiting for her return flight to the UK at JFK Airport, New York City at age 14! By Storm Model Agency founder Sarah Doukas. And the rest as they say is history.
She is known for being an easy target for the paparazzi; accusations go from cocaine user, heroin addict, having anorexia to indulging in lesbian affairs to which she always responds the claims to be ridiculous.
One thing is for sure she is fashion icon that always knows how to put an outfit together and makes it seem effortless…let's find out how she pulls it off!
Her style
The supermodel first made her appearance on the runways in the 1990's where she helped create a new style dubbed "heroin chic". Not only has Kate been an influential fashion force since then but even in her 30's she still manages to remain in high demand. Kate's personal style has been nothing short of influential.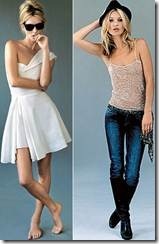 Her hair
Kate's style begins with her hair. Her hair always looks messy but just the right amount. It is never pin straight or curled, just loose waves. Those loose waves give her style an air of boho-chic, reminiscent of the hair styles of the late 1960's and early 1970's.
Her make up
Minimalism is the key to her make-up. Kate always has a clean canvas with dramatic eyes. She wears a smoky eye or a lot of kohl black eyeliner to play up her look. She is rarely ever seen not sporting one or the other giving her just enough of an edge.
Her wardrobe
She is a thrown-together outfit kind of gal; her range from skinny jeans to skirts and cut-off denim shorts to loose and layered tops. She uses jeans as a fashion statement themselves. She does not stick to just one look but likes to play it up with high-waisted or wide leg jeans.
Her Accessories
Accessories are what make Kate's style. She always has the right pieces to take her outfit to the right level. Scarves, oversized sunglasses, handbags and leather jackets are all staple pieces in her wardrobe. She usually wears them all together or mixes a couple of them with one outfit.
Belts and fur coats are also abundant in Moss' wardrobe. She uses them to make simple dresses look like something out of the runways.
Chameleon???
What makes Kate's style work is that she is a chameleon. She can wear pieces from any time era put them together with the modern era clothes and makes it work. She never goes over the top trying to get the top fashion or tries to emulate what is seen in fashion shows. She uses simple and vintage clothing to begin her own trends.
Personal Life
Johnny Depp from 1994 to 1998; dated Jefferson Hack in 2002 he is the father of her adorable daughter Lila Grace Moss Hack born on September 29, 2002; Peter Doherty from 2005 to 2007; she met Kills' guitarist Jamie Hince in 2007 began dating in the last months of that same same year, got engaged on March, 2008 two years later on July 1st, 2011 they got married.