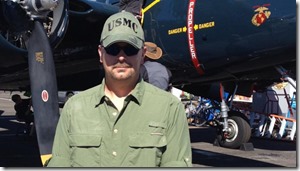 Giving your life to save others? Not something many would do however there are those who bravely take a bullet to spare those they love. A math teacher and former marine identified as Michael Landsberry did exactly that and became a "hero" today after he lost his life during a shooting at Sparks Middle School.
The suspect is allegedly a student at the school, located in the Reno, Nevada area.

According to reports, during a press conference, police officials said that Landsberry was shot and killed during a confrontation with a student, who has not yet been identified. One of the police officials described him as a "hero."
The incident witnessed by other students is described as Mr. Landsberry running over to the student after the teacher saw him with a gun. The teacher was then shot.
"We heard a pop, like a loud pop, and everybody was screaming and the teacher came to investigate,"  "I thought it was a firecracker at first, but the student was pointing a gun at the teacher after the teacher told him to put it down, and the student fired a shot at the teacher and the teacher fell and everybody ran away.
A 13-year-old student said, according to reports.
The thoughtful teacher had a website set up, to tell students what to expect going into his class.
"One of my goals is to earn your respect while you earn mine. I believe that with mutual respect that the classroom environment will run smoothly," it reads. He shares in the same page a motivational video (below). The site is divided  in five different sections, including Algebra, math 8, grading policy and math stuff.
In other reports, the 45-year-old educator is said to have celebrated his wedding anniversary on October 18th. He recently married Sharon and leaves her and two stepdaughters behind.
As the story develops, many students have been showing the love and appreciation for their popular and beloved math teacher. One of them twitted the following picture and caption: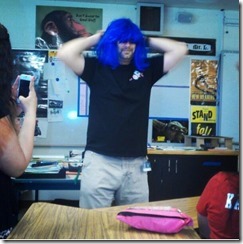 I'll always remember all the stuff you did for me, I'll never forget you Mr.Landsberry
During the dramatic turn of events on today's school day at Sparks Middle School not only Mike Landsberry lost his life but other two students were injured and some reports say the suspect has also died. Although is not yet confirmed.
Our thoughts and prayers go out to Mr. Landsberry and his family.