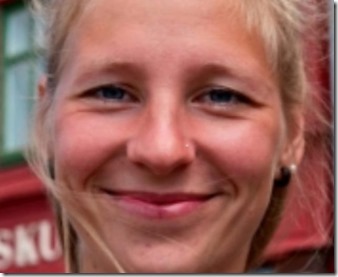 For the love of science? Meet Marlene, she belong to the Institute of Microbiology and Hygiene, Campus Benjamin Franklin, Charité University Medicine, Berlin, Germany. She is a a parasitologist at her university,
From Science magazine, we learn the story of Marlene Thielecke, for many a horror story. The medical researcher who decided to let a sand flea live in her foot. Why? She wanted to answer a question:
Where, exactly, does the sand flea have sex? On the dusty ground, where it spends the first half of its life? Or already nestled snugly in its host—such as in a human foot—where it can suck the blood it needs to nourish its eggs?
Thielcke was already researching a disease, known as tungiasis, which often results from a sand flea infection. But, scientists don't really know how the critters reproduce. So, "upon discovering a flea living in her foot, Thielecke – instead of reacting with the appropriate terror response –  decided to study the creature, in the hopes it might help science."
On her profile on Research Gate, the blonde, blue eyed says she is interested in capoeira and cycling. Her skills professional skills include Intervention studies, preventive medicine, randomized control trials, patient education, prevalence, risk factors and others. So is not like she didn't know what she was doing! The New York Daily Mail, reported Thielecke was so fascinated by the parasite that she decided to keep the sand flea alive for two months. Marlene even took regular photos and kept a video diary of the flea living inside her, all in the name of science.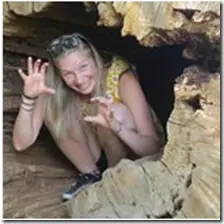 Marlene has written at least four articles about her work, including: "Regression of Severe Tungiasis-Associated Morbidity after Prevention of Re-Infestation: A Case Series from Rural Madagascar" "Prevention of tungiasis and tungiasis-associated morbidity using the plant-based repellent zanzarin: a randomized, controlled field study in rural madagascar" and "The fate of the embedded virgin sand flea Tunga penetrans: Hypothesis, self-experimentation and photographic sequence"
All of which we might not understand a word and even find it somewhat disgusting? But if we think about it, we should be thankful for passionate researchers like Marlene, who are courageous enough to go through this kind of craziness.
She decided to let her friend go after her foot became sore and hindered her walking.
You can see more of her articles here and find her on Facebook here.