Is not a big shock that actor Leo Dicaprio shows a preference for the leggy type meaning models! Specially once they become Angels for Victoria Secret! Leo and 20 year old model Toni Garrn were spotted on Sunday arriving back in Nice after watching the Monaco Formula One Grand Prix.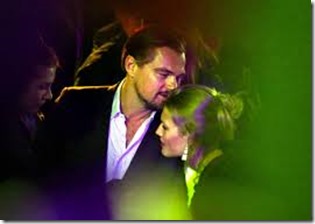 17 years his junior Blue eye, blond hair German Toni, was born July 7, 1992.  The soon to be 21 year old, made her debut with Victoria's Secret on the runway in 2011.
Her big break into fashion was in 2008 when she was 16 years old! She signed to an exclusive contract with Calvin Klein which is one of the most coveted modeling contracts. Her career took off from that point on.
Can you believe she was discovered at the age of 13! During the World Cup in Hamburg! And get this, while walking down the street with her best friend; it was just meant to be! An agent approached the teen and asked if she wanted to be a model…
This girl has her priorities straight though,  in 2010 she passed at the chance of Fashion week in February in order to give her full attention to her finals. She has an older brother named Niklas,who happens to be also a model.
Read more about Leo DiCaprio's new model GF Toni Garrn here.