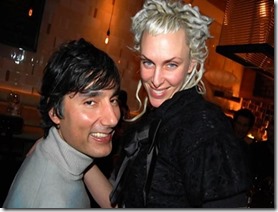 Laura Tigz De Palma who along with husband Mike Bindra are the creators of Electric Zoo-a Randall's Island music fest- are in some predicament.
Their famous music festival created a few years back was tainted; this year's Electric Zoo was cancelled on the last day of the weekend event after the drug-fueled deaths of two young adults!
And if you think her face looks familiar besides her hubby's recent scandal with both Electric Zoo and his link as a former Twilo Club general manager, it might be because you remember her from her acting gig in The Fifth Element! And if you just don't remember you can see her in the picture below! At her finest moment as a Fhloston Hostess back in 1997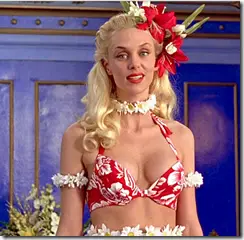 Laura was also in 1996's "Un caso d'amore" in her role as "Piera"
She is the daughter of Marie Lesinsky and Ralph De Palma and has two more sisters, Lynne and Joyce.
Lynne De Palma Cerniglia who attended Northville High School graduating in the class of 1976 in Michigan, then went on to graduate from West Chester University in Pennsylvania and is currently living in Atlanta, Georgia and works for Beacham & Company Realtors as a Broker Associate. Joyce De Palma Blank who lives in Alpharetta, Georgia has had several jobs, including Sales Manager at Chico's, general manager at Banana Republic in Florida, Electric Zoo Festival, Randalls Island Park, NYC, general manager at Bath and Body Works in Georgia and is currently working as a general manager for a clothing store called White House | Black Market. Joyce is also mother to Tyler and Sara Blank.
Laura's mother and father celebrated earlier this year their 59th wedding anniversary!
De Palma had a brief acting career and also did some modeling but her passion was event coordinator; she and husband Mike, launched the Electric Zoo event in 2009, creating an annual Labor Day party on the city-owned island but before Electric Zoo was born she and her business partner/husband had been long time event organizers taking on big outdoor events for about seven years prior, including events in Central Park and Pier 54.
You can read an interview they did on Electric Zoo back in 09 here.
You can find her on Facebook here.