Chi is a popular women magazine in Italy with over than 218,262 copies and 3,607,000 readers; Chi Magazine features interviews, stories and exclusive photographs of famous in television, politics, sports but their latest expertise has been candid photos of the Duchess of Cambridge, either topless or sporting her baby bump in a bikini in a deserted island.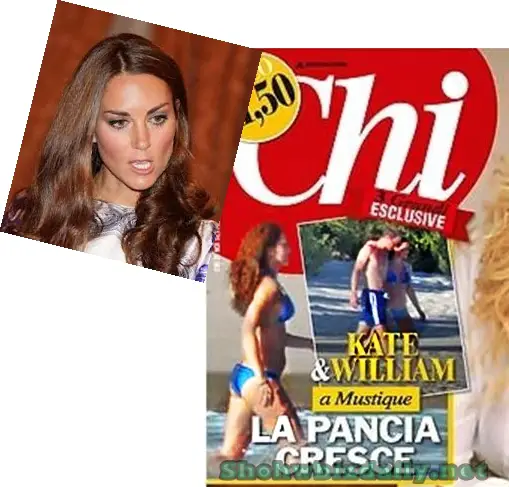 As we all know Chi Magazine has been involved in serious problems with William Duke and Catherine the Duchess of Cambridge by publishing photos of the duchess topless on 2012.
"I want them jailed," William told pals.´
Now the Chi Magazine has new problems with Duke and Duchess of Cambridge again by publishing picture of Kate on a private Caribbean holiday. The picture of Kate the Duchess of Cambridge shows her wearing a bikini and walking on the beach with Prince William on the island of Mustique whish is a private island of St Vincent and the Grenadines.
Photographs also show Catherine pregnancy while she was walking whit her husband William, paparazzi aren't allowed to the St Vincent Island since this has been popular for celebrities.
A St James's Palace spokesman said: "We are disappointed that photographs of the Duke and Duchess on a private holiday look likely to be published overseas.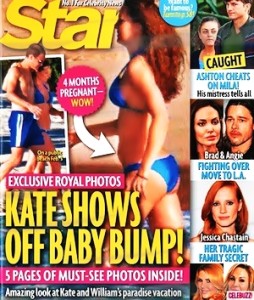 By December the duke and the duchess revels the pregnancy of their first child, some weeks later Catherine was taken to the hospital because of morning sickness and diagnosed with hyperemesis gravidarum(Condition of pregnancy that may cause nausea, vomiting, and dehydration)
"Their Royal Highnesses The Duke and Duchess of Cambridge are very pleased to announce that The Duchess of Cambridge is expecting a baby.

The Queen, The Duke of Edinburgh, The Prince of Wales, The Duchess of Cornwall and Prince Harry and members of both families are delighted with the news."