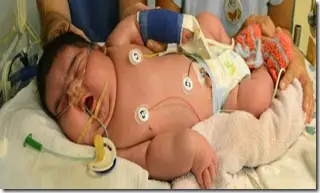 Ok, first, let's set the record straight, having a baby it's always a joyous occasion, welcoming that new life into this world it's a blessing for parents around the world.
Now picture having a baby that's the equivalent of at least 2 healthy newborns in weight! That is the case of not so little but just the same as adorable and beautiful as any baby girl Jasleen.
Let's meet her; with only four days old, baby Jasleen is making headlines around the world. She is a German baby girl who weights an astonishing 6.110 grams and measuring 57.5 cm in length. The famous baby girl was born Friday in University Hospital in Leipzig, Germany, she is the country's largest-ever newborn, at 13.47 pounds and 22.6 inches long. If you think that is shocking you need to know Jasleen was delivered by her momma all natural, meaning she gave birth to her baby girl vaginally!
What a brave mother that is huh! Now, the concern here is for Jasleen's health; why is she such a large baby? The answer, according to doctors is the mother's diet. You would think Holy Moly, what was the mother eating? But Jasleen's mom developed gestational diabetes so the fetus allegedly grew bigger on her high blood sugar.
This condition that develops around the 24th week of pregnancy can lead to larger-than-average newborn size and hence Jasleen.
Now, if you are wondering about mother and daughter current status, is, according to doctors mother is doing fine and Jasleen is being observed at the neonatal intensive care ward of the University Hospital in Leipzig.
Jaleen will have a nice story to tell her own babies when she remembers she was once Germany's biggest baby.
We sure hope Jasleen can leave the hospital soon and go to her new home with her mommy.