Jacintha Saldanha was found today dead near King Edward VII Hospital after receiving a 'joke call' from Aussies DJs.
The gag wasn't that funny for Jacinta who's from Kinnigoli, India studies at the Little Flower Girl High School in Kinnigoly, she then went to Pompeei College in Aikala. The presenters, Mel Greig and Michael Christian who called her had private details from her. She is remembered as an 'excellent nurse who cared diligently for hundreds.' She left her husband, Benedict Barboza and their children 16-year-old Junal Pablo, a student at St Bede's Catholic College, and 15-year-old Lisha or Alisha
The cause of death seems to be a suicide.
The body of Jacintha, was found at an address yards away from King Edward VII Hospital. Emergency services were called and  2 ambulances drove to the central London residence today. The paramedics were not able to help her since she was already dead.
The Duke and Duchess of Cambridge made a statement:
We are deeply saddened and our thoughts and prayers are with Jacintha Saldanha's family, friends and colleagues at this very sad time.
On the contrary we offered our full and heartfelt support to the nurses involved and hospital staff at all times.
It is unknown if the Duchess ever met Jacintha. But is fairly possible.
The King Edward VII hospital emitted an statement too:
We can confirm that Jacintha was recently the victim of a hoax call to the hospital. The hospital had been supporting her throughout this difficult time.
It is with very deep sadness that we confirm the tragic death of a member of our nursing staff, Jacintha Saldanha.
Jacintha has worked at the King Edward VII Hospital for more than four years. She was an excellent nurse and well respected and popular with all over her colleagues.
'This is a tragic event. Jacintha was a first class nurse who cared diligently for hundreds of patients during her time with us. She will be greatly missed.
Our thoughts and deepest sympathies at this time are with her family and friends. Everyone is shocked by the loss of a much loved and valued colleague.
Jacinta was in reception at the time of the prank call. The presenters pretended to be Queen and Prince Charles and asked her if they could be put through to Catherine.
She then transferred them to  another nurse who gave details of Kate's state. The Duchess had severe morning sickness at the London hospital and went home after 3 nights. Kate, who´s 2 months pregnant was taken to the hospital by Wills.
The presenters, from 2Day FM, were joking about  the call, as they recall:
Easiest prank call ever made.
Their Brit accents was terrible.
The Scotland Yard started an investigation and named the death as 'unexplained'.
Both presenters have closed their Twitter accounts cuz they are afraid they can lose their jobs.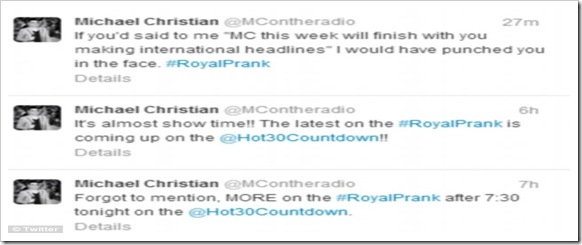 People answered him back:
If you have any kind of conscience or morals….. Right about now you should be typing your resignation.
You scumbag, hope you get what's coming to you!
I hope you're happy now.. The receptionist you rang has COMMITTED SUICIDE! You have blood on your hands now!
Greig (presenter) was harassed in the  social network.