Herma Marksman is a well known character in Venezuela, not just because she is renowned historian but because for nearly a decade she had an affair with their late president Hugo Chavez.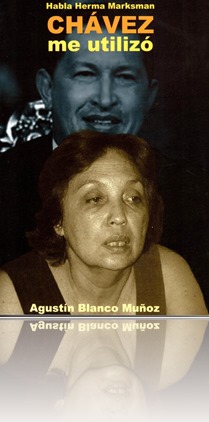 64-year-old Herma Mercedes Marksman born in Bolivar, Caracas in Venezuela on September 17th, 1949 is a professor with a degree in history and Venezuelan politics who met Hugo Chavez in 1984 at the age of 35, he was 29 and married to his first wife Nancy.
Herma Marksman born to a Venezuelan mother and a German father helped Chavez in his studies and kept record of the organization of the military group Movimiento Bolivariano Revolucionario 200 aka MBR-200, she served Chavez communicate with his allies during the 1992 military coup, she continued to visit Chavez when he was in jail.
By July, 1993 he dumped her and his first wife and got married to his second wife Marisabel Rodriguez, leaving Marksman feeling betrayed, bitter and hating him. She kept all documents and other data MBR-200 related but did wrote two books about her affair with Hugo Chavez "El Otro Chavez" (the other Chavez) in 2002 and "Chavez Me Utilizo" (Chavez Used me) in 2004, it was reporter Herma was interview by Wikileaks.
She is now retired from politics, and lives in Caracas.
Find Herma Marksman on Twitter here.