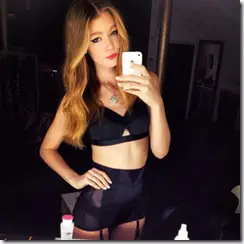 Meet astonishingly beautiful, 18-year-old model Hollie-May Saker. Born in Liverpool and raised in Marbella, She is one of the brightest and most beautiful new faces to come out of Britain in recent years. With a classic 60′s cinematic look combined with thick dark eyebrows, it's no surprise Hollie-May established herself as a favorite of Marc Jacobs and is quickly becoming a catwalk regular across the world.
She models for agencies Models 1, View, D'management, Trump, Elite Paris & Elite Denmark.
She's been described as the "next Kate Moss" and just like Kate, Saker might be in for the drama of the fashion world. The 18-year-old who is currently in Paris working had a little "altercation" during Thursday's Nina Ricci show when two topless protesters crashed her catwalk!
Just like a pro Saker tried to keep composure but as one grabbed her and tried to lift her skirt,  the model lashed out, striking her on the nose. Can you blame her?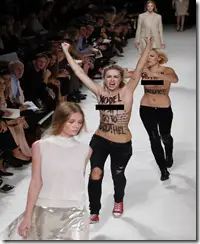 But why don't we get to know more about her? Here is what we know; when asked "What did you want to be when you grew up?" during an interview she did for http://i-donline.com, the young model said
When I was younger I went through weird phases about what I wanted to be when I was older, from the age of 3 till about 7 I wanted to be and was so convinced I could be a pony. I was completely oblivious to the fact that it wasn't a job so when my mum told me I couldn't be one I was heartbroken. I then completely changed my mind and wanted to be an archaeologist, I loved digging in the garden and on the beach looking for weird stones and shells. Then I wanted to be a dentist, then I went to secondary school and didn't have a clue what I wanted to do or what I could do, I was so jealous of all my friends in school because they all had things they were good at and I had nothing I was good at. Modeling has given me such a confidence boost.
Bullied while at school for her height (5' 10") she never thought of modeling until her boyfriend's grandmother and mum brought it up. They had connections with models 1 in London, long story short she sent some pics and loved her!  Next thing she knew she was traveling to London to sign her first contact with them.
Although she was born in England she calls Marbella, Spain home because is where she has all her childhood memories. The stunning girl might be young but she is very self-centered see what she says about her mom
we've gone through a lot in life and she's such an amazing and strong lady, I admire her and she just deserves the best in life. We're going through a real tough time at the moment so nothing makes me happier than seeing her smile.
She is owner a of a little cat named Ciggie, is a huge fan of Lana del Rey, loves her onesies, love walking and the one place she wants to go before she dies is Australia.
You can follow her on twitter here and see more of her amazing pictures on instagram here.