Socialite, fashion icon, interior designer, business woman …. Need I say more? Hope I'm not forgetting anything! This is the only and only Iris Apfel.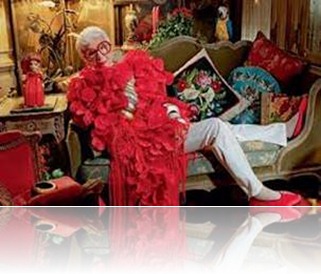 Socialite, fashion icon, interior designer, business woman …. Need I say more? Hope I'm not forgetting anything!
Her spectacles, signature look, lend Iris Apfel a startled look. If she seems surprised, she has good reason. Mrs. Apfel, the subject of a string of museum exhibitions, a coffee table book and even a fashion advertising campaign, has long been a magnet to those devotees of fashion who worship her style.
Born August 29, 1921 Iris Barrel in Astoria, Queens, New York, Apfel is the only child of Samuel Barrel, whose family owned a glass-and-mirror business, and his Russian-born wife, Sadye, who owned a fashion boutique.
She studied art history at New York University and attended art school at the University of Wisconsin.
In 1948, she married Carl Apfel. Two years later they launched the textile firm Old World Weavers and ran it until they retired in 1992. During this time, Iris Apfel took part in several design restoration projects, including work at the White House for nine presidents: Truman, Eisenhower, Nixon, Kennedy, Johnson, Carter, Reagan, and Clinton.
Apfel now 91 clearly hasn't let age quash her unique and timeless sense of natural style.
Straight people, gay people, students of art and social history, tourists and chattering adolescents, "even little kids," she noted, gravitate to her lectures!
She's been described as "a blend of passion, energy and determination"… the president of products at Maysles Films. "She's wonderfully strong-willed, opinionated and single-minded," Mr. Kaplan said. "She's not a waffler."
Mrs. Apfel is the discerning curator of her own wardrobe. Sorted and stowed in a vast nearby warehouse, can you imagine? She even donated 900 pieces of her famous wardrobe back in May to a Museum in Salem, Massachusetts.
Her personal wardrobe incorporates pieces commemorating high points in her life. "She's a great storyteller," said Mindy Grossman, the chief executive of HSN. "Every single thing she wears, she remembers a story behind it."
Her wardrobe was lavishly documented by the photographer Eric Boman in "Rare Bird of Fashion: The Irreverent Iris Apfel," in 2007. She is a fixture of the society columns. Swathed in longhair fur, she was the improbable star of a 2008 Coach advertising campaign.
Women view her as a role model: "A lot of them have told me, 'Now that I've met you, I feel so liberated.' " Secret eccentrics, they have learned, Mrs. Apfel maintained, "that when you don't dress like everybody else, you don't have to think like everybody else." That is so true, I think that's part of her secret.
Wow! And you would think this lady should be slowing down … Well think again! She recently teamed-up with Henri Bendel to debut her first luxury handbag collection! "Extinctions" The line features colorful bags rendered in Mongolian lamb hair, calf hair, and snakeskin.
Always reflecting her personality she said: "I'm a color person, I've never been known to play it safe. Plus I like big bags. My eyeglasses are so big; they don't fit into smaller bags." For sure she hasn't lost her sense of humor! Crazy! What an inspiring spirit!
Check out her website http://irisapfelcollection.com/
Think again before getting dress and learn some great tips! You never know you could be the next Iris!