Emma Nicholson was definitely born to dance! Well pole dancing that is, is quite a turn of paths the 36 year old woman from Hull has done but she couldn't be happier, you can just see it on her face.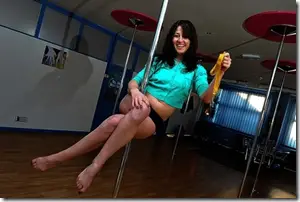 Emma like you an me regular mortals studied a career and became a school teacher fulfilling perhaps parents desires and her own but seven years ago everything change. That´s when she got into pol dancing and although at the beginning she was terrible she simply fell in love with it.
The English woman decided it was time to hang the books for good and hit the studio for what´s her true passion.
There is no question about when one is doing what one likes magic happens…you feel great and therefore think any dream is possible!
When she first started she couldn't even do the split and look at her now!
"I don't have a background in dance and couldn't even do the splits, but I can get my leg around my head now."
Emma who currently lives in Kinston upon Hull was encouraged by colleagues and her boyfriend is now pursuing pole dancing full time! That's what I call support! Instead of putting her down for going on such an uncommon path friends and boyfriend are all excited for her! Is not like she is going to the strip club right! I mean that would be a whole different story if parents or better said her student´s daddy's awkwardly ¨ran into¨ her at one of those joints!
Miss Nicholson as she was formerly addressed by her students, enjoyed pole dancing so much that she opened her own shop five years ago, she owns Boutique Pole Dance Studio in west Hull and not only that; slowly but surely she worked hard to become an instructor and is also going all out!
She recently competed At the British Pole Superstar Championships where she placed second; yup there is such a thing.
"It was my first competition, so it was a quite a big deal for me.

"On top of teaching classes every night, I'd stay for another hour to practice my routine."
But if you saw her and thought oh that´s easy! I can do that! Well slow it down right there cowboy because is definitely not a walk in the park as you might think! Just take a look at her face on that picture!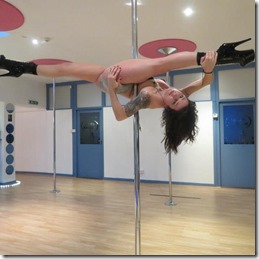 Pole dancing can be an exhausting routine, the growing amount of interest on this ¨fitness routine¨as it is describe by some, can definitely take a toll on the body just like any other workout!
Emma says:
"There's one move that always bruised my ribs while I practiced, so it would hurt whenever I turned over in bed."
Well I've always had admiration for women who pursue their passion and go places! If that´s what makes her heart tick then kudos to her, you can even say she is just a physical education teacher now! How's that!