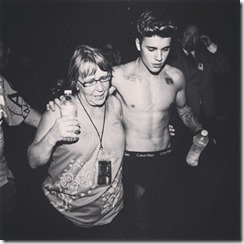 The teen heartthrob is said to have slept in late on Thanksgiving morning, missing the rest of the family's arrivals for the celebration held on October last year.
When Justin woke up, he allegedly decided to prank the family by grabbing his guitar and playing a naked set! Nan Diane was the first to come face to face with Bieber and according to TMZ she found the prank hilarious, as did the rest of the assembled Bieber clan.
Diane is the mother of Justin's mom Pattie Mallette and she helped raise the singer.
In July, Diane gave an interview about her grandson's controversial behavior, which has included peeing in buckets and apparently spitting on innocent bystanders.
"I feel sorry for Justin all the time, because paparazzi pick on him all the time. Anybody else's kids have done the same thing but nobody says anything. He's a 19-year-old boy. And before you criticize him, say, 'What is my 19-year-old boy doing?'
As we can see, is obvious she is a fan of her grandson, the woman is practically his mother, but maybe she could see the bigger picture instead of defending him, don't you think?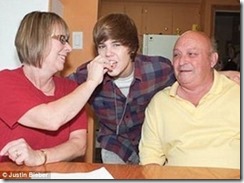 Anyhow, Diane M. Henry, the Biebs's grandma was first married to Michael, from that first marriage she had three children including Justin's mother Pattie. Diane gave birth to a little girl who was killed at age five by a car that struck her as she was crossing the street; then she had a baby boy named Chris and the youngest would be Pattie. Justin's grandma divorced due to her husband's abuse with alcohol. She re married to Bruce Dale in 1981 when Justin's mom, Pattie was only five years old.
After the wedding Diane welcomed her new husband and his kids, and all became one family.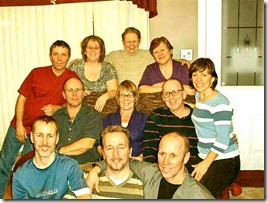 After Diane's daughter Pattie gave birth to Justin on March first, 1994 she and her husband Bruce were key to help raised the newest addition to their family.
Diane's hometown is Stratford, Ontario she speaks French and English. She is definitely a hands on kind of grandma! On her twitter account she is listed as Diane Dale, she says:
Hello, i am diane dale. this is my official account. I don't relay messages to my Grandson @justinbieber and I DO NOT follow strangers. DO NOT ASK.
She has over 2,000 followers! cute huh!  Diane's daughter Pattie made some controversy releasing her autobiographic book where she talks about her sexual abuse as a baby and how her mother Diane would have to leave her at times with her stepfather and stepsiblings.
Diane appeared in Justin's "never say never" documentary in 2011.
You can find her on Facebook here and follow her on twitter here.