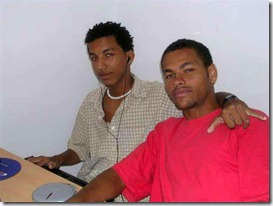 Lloyd may have had info on that double murder, which happened last July 16 when Daniel Abreu and Safiro Furtado were surprisingly attacked in their automobile at a stop light, shot and killed.
Boston police were at the house of Aaron Hernandez near the beginning of Friday executing a investigation demand most probably in last year's murder of Odin Lloyd, 27, of Dorchester on June 17 in North Attleboro.
Investigators consider a fight broke out the night of the double murder between Abreu and Furtado and a crowd that included Hernandez.
Abreu, Furtado and three others left the club, and were stopped at a light when a "silver or gray SUV with Rhode Island license plates" pulled next to them. Abreu and Furtado were shot and killed but the other three men survived.
Ahead their appearance, the police reported finding two men dead at the scene, Daniel Jorge Correia de Abreau, 29, and Safiro Teixeira Furtado, 28, both of Dorchester.
Edwin, a cousin of Furtado said investigators have not talked to the relatives about any probable relationship to Hernandez.
He said:
It's crazy. It's been almost two years. He was a good guy. Danny was a good guy, too.
At about 2:00am, on Sunday, July 15, 2012, officers from District D-4 (South End) responded to a call for people shot at the intersection of Shawmut Avenue and Herald Street. A third victim, anguishing from non-life menacing shooting wounds, was transported to Tufts Medical Center.
The Boston Police Department severely protected the identities of those who wished to help this inquiry in an unidentified capability.
More on Daniel, he was born on August 25 and his sisters were Elisangela Abreu and Jennifer Vicente. He was Catholic and belong to the Danish People's Party. He lived in Boston, MA.
Daniel's FB here.