Chris Mann 's new single "Roads" has arrived, Continue reading to know more about Chris Mann's new album, and biography below.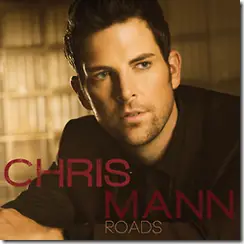 Christopher Michael Mann was born May 5, 1982. He is a classically trained American singer-songwriter from Wichita, Kansas. He is currently engaged to his beautiful girlfriend Laura Perloe, she is an actress we have seen starring in True Blood, Melrose Place, Fringe, and this year she will be in Some Girls and 1982. You can find her on Twitter here.
He came in fourth place on the second series of NBC's singing competition The Voice in 2012. He currently lives in in Los Angeles, California.
He plans to release his first studio album titled "Roads" on October 30
After graduating in 2000 from Wichita Southeast High School in Wichita, Kansas, he attended Vanderbilt University obtaining a degree in vocal performance in 2004. After graduation, he was cast in an Italian opera in Europe. And later after moving to Los Angeles, he landed numerous studio and group singing gigs.
Mann participated in the season two of the singing reality show The Voice, ultimately placing fourth.
He was initially chosen by judges Christina Aguilera and Cee Lo Green after singing Andrea Bocelli's "Because We Believe". He chose to be part of Team Christina Aguilera, on whose team he had hoped to be selected from the start.
For the finale, he soloed "You Raise Me Up" which earned him several comparisons to singer Josh Groban; many believe he is the next Josh but others seem to think he should stop copying him and just be original. Yaiks! Chris consistently received praise from the other coaches; Cee Lo Green called Mann's voice "incomparable", while Blake Shelton called Mann a "powerhouse" and a "really strong singer".
And I couldn't agree more! I heard the song this past week when he was live on the a radio show in L.A,,,, love the song! I loved it so much I will put a post it on my fridge to remind myself when will the song be available because I know I'll forget!
So let me know how you like it!
Check him out at a live performance of new single!
Check out his Facebook for updates! http://www.facebook.com/chrismannmusic and follow him
https://twitter.com/IamChrisMann