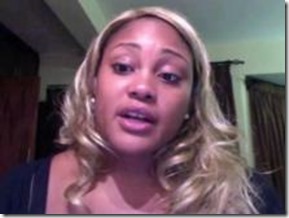 Meet 30-year-old Bendita Cynthia Malakia, she was among the hundreds of people trapped at Westgate mall in Nairobi, Kenya that came under siege over the weekend by an al-Qaida-linked militant group.
Grateful to be alive, after she was rescued by who she believes to be an American security team, she said via Skype on Sunday
"You could hear them methodically kind of going from store to store talking to people, asking questions, shooting (and then hearing screams)," "Then, it would stop for a while, and then, they would go to another store."

 
The 30-year-old moved from Elizabeth City to Nairobi in July to work for a financial company. According to her linkedin she worked as a Project Finance Attorney at Norton Rose Fulbright until June this year.
Bendita attended Cicero- North Syracuse High School in New York graduating in the class of 2001. She then graduated summa cum laude from Barnard College in 2005 with a B.A in Political Science; while at Barnard she was a member of Columbia University Gospel Choir and the Barnard Organization of Soul Sisters.
Graduating in 2008 from Harvard Law School she gained her J.D. During her three years at Harvard she served in many activities and committees such like, the Harvard Real Estate Consortium, Harvard Law School Real Estate Association, Harvard Black Law Students Association, Harvard BlackLetter Law Journal Symposium.
She speaks English, French and Spanish and her skills include Project Finance, Corporate Law, Due Diligence, Legal Writing, Contractual Agreements and Contract Negotiation.
She worked as a Corporate Paralegal for eight months at Paul, Weiss, Rifkind, Wharton & Garrison LLP; then moved on to Fulbright & Jaworski as a Senior associate until she moved to land her current position at International Finance Corporation in Nairobi, Kenya.
Bendita is primarily engaged in infrastructure and energy matters in emerging markets. Her civic involvement includes four years as Co-chair in Small Business Collective, a year in Young Real Estate Academic Initiative, Real Estate Academic Initiative Alumni Advisory Board, Harvard Real Estate Alumni Organization, Founder and Interim Treasurer.
After more than four hours, Bendita Malakia and others were rescued by American Security Forces and the Kenyan army. Her mother Lue Malakia saw the whole thing in the news and wited from word from her daughter.
Malakia and her friends are safe now. Don't miss the video below where her mother crying says "I could have lost you" it's heartbreaking.
You can find her on Facebook here.