Wow! Talking about an evil plan! This is some serious being at center of attention unnecessary drama! This soloist surely knows what being at a center stage must feel like but now he might be facing another type of attention.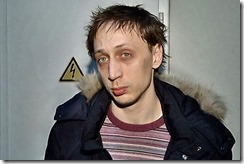 Pavel Dmitrichenko is a leading dancer at the Bolshoi Ballet who is known for his powerful performances, one of his latest roles Ivan the Terrible.
Apparently Dmitrichenko, orchestrated the whole thing ..the whole evil plan better said, that resulted in nearly leaving blind the artistic director Sergei Filin and all ofr what?? It sems some kind of vengeance because Filin would not put  Dmitrichenko's 21 year old ballerina girlfriend on any major roles! Wow what do they eat/drink/smoke over there in Russia!! I don't want to have any enemies there that's for sure.
The 29 year old dancer has had several starring roles but I guess any director will think twice before consider him for any part after this! They might think they don't want to end up on his bad side if you know what I mean! The accident happened on last January but has kept Russia's art world stunned for weeks.
The attack left Filin with severly damaged eyes and chemical burns after a jar of sulphuric acid was thrown to his face! Now Pavel admits he organized the little joke but never thought it would extend to this result! Is he serious is that his way of saying "I made a mistake" He is shamelessly lying if you asked me! How can you not foresee what will happen if you throw acid to someone's face!!!
Now he is facing a different kind of attention since he might go to jail for up to 12 years! I guess he should have thought a little before going through with it huh!
And althoug Dmitrichenko is one of several dis one dancer to have clashes with the director is no excuse to do what he did! Nothing is! I mean to say is as a funny prank is one thing but to actually think the time, the place and the how to is completely another.
All good villains need an accomplice or a couple right! Well Pavel went along with his plan with the help of L-R Yury Zarutsky and  Andrei Lipatov.
Good luck to all three of them.