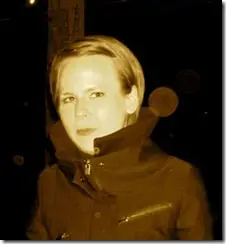 Writer and producer Amy Ozols is one of the creators and executive producers of NBC's new comedy "Guys with Kids."
According to her NBC bio, Ozols graduated from Harvard, where she wrote for the Harvard Lampoon, and later from Harvard Law School.  She practiced corporate law on Wall Street for two years, and then wrote for the game shows "Who Wants to Be a Millionaire" and "World Series of Pop Culture" before ultimately landing at "Late Night" in 2008.  Her writing has been featured in numerous magazines, including Real Simple and the New Yorker.
Here is a piece she wrote for the New Yorker a couple of years ago, brilliantly describing her apartment while giving little details about herself, you can clearly get a sense of her writing skills
This is a picture of my family from last Thanksgiving. Here's my mom—she's a real pistol. I think that's where I get my sense of humor. These are my sisters. My dad's the tall guy in the back. And that's my grandmother, with a cat on her lap. And that animal crouched menacingly on top of the picture frame—that's an actual cat, far more knowledgeable and terrifying than the cat in the picture.

Are you allergic? There's some stuff coming out of your nose. Don't be embarrassed; it happens to me all the time. In fact, if I'm being totally honest here—and, let's face it, I'm being totally honest here, perhaps unsettlingly so—I haven't breathed freely since the Clinton Administration
Ozols has been a writer for NBC's "Late Night with Jimmy Fallon" since the show's premiere. In 2011 she and Fallon launched the production shingle Holiday Road.  "Guys With Kids" is their first project together.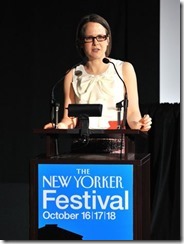 Earlier this year Fallon said about her
"She puts so much thought and care into everything she does and we share the same vision about making the best television that we can produce.  I know she'll put that same intelligence, cleverness and care into 'The Tonight Show.' This is exciting."
When it was announced back in June that she would be moving up with Jimmy Fallon to produce "The Tonight Show"
But the the longtime "Late Night" asset might be a little embarrassed and up against the shame corner after she tried to pull a prank but totally backfired and ended up calling someone a d***face!
The Emmy nominated writer sent balloons and flowers to "congratulate" Josh Lieb on taking over for her at "Late Night" but the note linked to the garnished that read
Hey d***face, This is what you get for stealing my job! I'm kidding, I love you, From Ozols,'
Ended up in someone else's birthday! Whoops!
She resides in New York and Los Angeles. You can follow her on twitter here.