Meet 31-year-old Alicia Heiniger, she is the daughter of Former Rolex CEO  Patrick Heiniger who passed away last March in Monaco at age 62.
Alicia is currently in the midst of a court battle in Manhattan over the late head the famed watchmaker's spectacular art collection. Alicia claims in court papers that her father's longtime girlfriend, Nina "Hana" Stevens, removed several pieces of pricey artwork from his Trump Tower condos in the weeks after his death. Lawyers say it will be a complicated case, since it's a fight over  lots of property!
She has a brother named Sébastien Heiniger, and they are both from her father's first marriage.
Alicia Heiniger followed in her father and grandfather's footsteps and went to work for Rolex after she graduated from college.
She attended International School of Geneva (La Grande Boissière- LGB) and followed into Webster University where she pursued a degree in Media & Communication.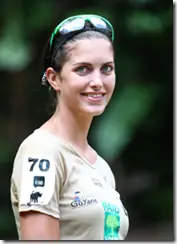 Alicia is the owner and editor of the magazine Equestrio, which is the only high-profile equestrian magazine in circulation, published on three continents, in five countries with five different editions and languages.
She is a former rider jumping in international competition, and of very sporty nature, Alicia also practices running, mountain treks and indoor training. She has a passion for travel and new experiences. She is committed each year in humanitarian support operations or protection of animals in the world.
Alicia participated in Raid Green Tree in 2011 in Guyana in Alsace Amazones team (pictured above)
She has been the magazine owner since March 2003, and also the owner of its sister company based in the U.S. EQUESTRIO USA Ltd. for the past 10 months. Her skills and experitse in the magazine world include; Marketing Communications, Public Relations, Advertising, Brand Development, Publishing, Sponsorship, Luxury Goods and Editorial.
She is member of several groups ans associations including; The Equestrian Industry, Magazine Advertising Sales, Luxury & Lifestyle Professionals, Business of Luxury CHINA, Bilan, la référence suisse de l'économie.
She currently resides in New York. Find her on instagram here.