Paranormal Activity actor Stephen Dunham passed away at the age of 48, the cause od death was a heart attack. Dunham is survive by his wife actress Alexondra Lee.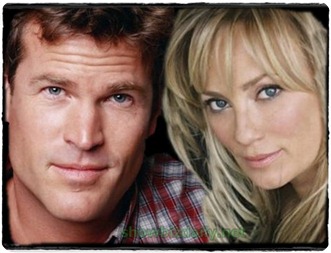 Stephen Dunham from Boston would have been celebrating his 48 birth on September 14th, except that on that day, he was fighting for his life at Providence St. Joseph's Hospital in Burbank, Calif where he was been treated after he suffered a heart attack days earlier.
Stephen's latest film this year was Savages but he was ready to appeared next to his wife Alexondra in Paranormal Activity 4. Other important roles he had was in Hot Properties along Sofia Vergara, Just shoot me and Grand, in movies we all remember him as Dr. Chamberlain along Jane Fonda in monster –in-Law.
His beloved wife 37-year-old Alexondra Lee was born in  February 6th, 1975 in Pennsylvania to Mae and Harry Lee.
Alexondra is a talented ballet dancer, she  has been dancing since she was a little girl, by the time she was a 4-year-old she danced with the New York Ballet Company in the Nutcracker Suite, three years later she joined the New York Ballet.
Besides dancing Alexondra is an actress, has been in several television series and movies, at age 14 she appeared in the t.v series Good morning, Miss Bliss, at 16 she portrayed Melissa in Thirtysomething, and made a cameo in Sisters.
Between 1991 and 1994 Alexondra starred in L.A Law, she also starred in Picket Fences as Lisa Fenn and as Ashley in Road Killers.
Perhaps you  remember her as Callie Martel in Party Of Five and as Margie Polakowski in George & Leo. Between 1998 and 2001 Mrs. Lee scored small parts in Providence, Zoe, Kiss My Act, Secret Agent Man, Working, Oh, Grow up and Grapevine, but her most significant role during this time was as Tina knowls in Boston Public.
In 2002 the roles kept coming and that was how we saw her in the t.v movie Momentum, Robbery Homicide Division, Push, Nevada and Special Unit 2. She gave portrayed sexy Maureen in what I Like About You and Rebecca McGill in CSI in 2006.
She was among other 99 stunning women in the 2001 issue of Stuff Magazine's 101 "Most Beautiful Women in the World" where Alexondra landed in the 81st place. She met her husband in the set of Oh Grow Up in 1999, they got married in 2005, you will see her and Stephen together as husband and wife in Paranormal Activity 4 this October.
Besides his beloved wife Alexondra, Stephen is survive by his parents and sister.