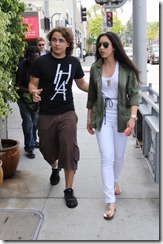 It surely looks like Prince Jackson has found his princess in Remi Alfalah! Do you think dad is proud wherever he is now?
Prince and Remi have been seen often together in the last couple of months. As they are both 16, their dates are going for lunch, bowling and going to the movies. Remi's mother, Alana Alfalah, trusts the late King of Pop's son.
Look, my husband is from Kuwait and I'm American, he's very strict, so there is no way he'd allow Remi to see someone who wasn't doing the right things in life. Prince doesn't get into trouble, he doesn't smoke, and he doesn't drink. We wouldn't allow Remi to be with just anyone
Alana said.
Alana explained her daughter met Prince last year when Remi began taking classes at the Buckley School in Sherman Oaks, California.
She was alone and the kids weren't very nice. Prince just approached her and he started showing her around and they grew close
Alana said of Remi, who is on the other hand known as "Remi al-Afalah" or "Remi al-Faleh."
Al-Faleh is not a name from the royal family. It is a famous family name in Kuwait. And Remi al-Faleh is not a Kuwaiti princess.
Remi and her family frequently travels to Monaco, St. Tropez, Aspen and other top vacation locations. She was born in USA.
Reality check:
Prince and the princess have been stopped for speeding by cops, who once cited Prince for blazing around in his Ford pickup at more than 20 mph over the speed limit … whereas wooing his princess, Prince has been fairly the chap, often picking up lunch and dinner tabs and giving her jewels and clothing.
The pair are not popular among social network so don't waste your time looking for these two in Twitter or Facebook…
But you can see more pics of the couple here.