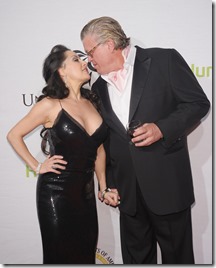 Meet singer-songwriter Margo Rey, well she might not need an intro neither her hilarious husband, stando up comedian and actor Ronald Dee "Ron" White, but did you know the couple tied the knot over the weekend? They have been together for the last five years but recently said their I Do's at the Fairmont Hotel on October 13th. Margo's brother Alex Reymundo is also a comedian and is a frequent opening act when her hubby is on tour.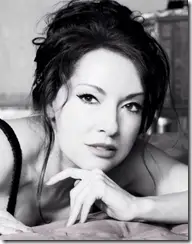 Margarita Reymundo-Jurado was born October 17, 1966 in Acapulco, Mexico city. The Latina born was raised in Arlington and Dallas, Texas; she began performing at the early age of eleven. She is the youngest of five children and her mother Juana-Amparo Jurado was a Flamenco dancer.
As a teen and having taken classical music training under the tutelage of classical voice professor, Dr. Luther Stripling she was the lead vocalist in"Debutante"an all female rock band in Arlington, Texas which toured the U.S. She was also in a power-pop band called The Ritual but the project never picked up.
She surrounds herself in a fantastic extended loving family of friends and fellow artists. She currently is a recording artist for Organica Music Group (OMG/Fontana/Universal). OMG was founded by Margo, her husband, comedian, Ron "Tater-Salad" White and Record company pro, Michael Blakey. Margo is making her artistic and global dreams come true by spreading awareness and education through her art, humor, public speaking and philanthropy all in the name of making a positive difference in the world and lives of others. She speaks four languages.
She is a brave cancer survivor not only once but twice and has her own video series called "Chemo-Glam". She has charted her songs on Billboard and MediaBase in Adult Contemporary (AC) Pop/ Dance & Holiday music charts 6 times in the last 24 months with her original compositions and arrangements.
Her artistic influences include Sade, Ella Fitzgerald, Sarah Vaughn, Carly Simon and Sting.
She says on her personal website
Music has always been my clearest form of expression. I believe it is one of the most beautiful ways humanity can truly communicate – its vibration is universal and transcends boundaries, languages and cultures.
Some of her most recent achievements include, last year's #9 on Recurrent Christmas Chart, Mediabase – This Holiday Night, last July she was #21 on Mediabase AC Chart – Tempted and #19 on Billboard AC Chart on July 8, 2013. You can see a full list of her accomplishments here.
She and her hubby best known as a charter member of the Blue Collar Comedy Tour tied the knot in 2008, Ron has been previously married two other times but hey, the third one is the charm one right!
The couple does a lot of team work, and are both very supportive of what they do.
You can find Margo Rey on Facebook here or follow her on twitter here.