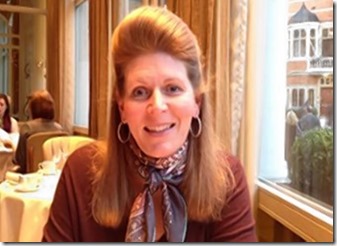 My oh my!! Ingrid Lederhaas-Okun, 46, a former Tiffany vice president, was arrested today at her home in Darien, Connecticut, and charged with wire fraud and interstate transportation of stolen property, according to a statement from the office of U.S. Attorney Preet Bharara in Manhattan.
Ingrid Lederhaas Okun was born in 1967. Ingrid currently lives in Darien, Connecticut. Before that, she lived in New York, NY from 2004 to 2006. Before that, Ingrid lived in New York, NY from 1995 to 2006.
Ingrid Lederhaas Okun is the daughter of Catherine, 74 and Joseph Lederhaas also 74-years-old. Her parent live in Punta Gorda, FL. She attended Lake Forest High School in Lake Forest IL.; graduating in the class of 1985. She then went on to Washington to Georgetown University from 1985 till graduation in 1989 with a B.A in History and Government. Her education also includes a study in Diamonds, Diamond Grading, Pearls, Colored Stones from the Gemological Institute of America-New York.
Mrs. Ingrid Lederhaas-Okun's Skills & Expertise include Jewelry, merchandising, luxury goods, fashion, retail, product management, product development, operations improvement, design collaboration, supply chain management, strategic public relations planning, motivation, personnel management, diamonds, gems, watches, wholesale, crystal, gemology, trend, luxury lifestyle, visual merchandising, strategy among others. The lady was clearly capable of pull something like what she's being charged for! I mean Knowledgeable and in a privileged position as the vice president of the worldly renowned Tiffany and Co.
Ingrid Okun, started working at Tiffany back in 1991 and held several positions. She first entered the prestigious brand as a assistant buyer, then in 1993 she became a manager of product development. In 1995 she was for one year the manager of engagement jewelry, in 1998 she became the director of product development and custom design and by 2004 she was the vice president of design and product development a position she held for 6 years.
In 2010 she was officially named vice president. She allegedly stole over $1 million in bling! The jewelry "disappeared" two years ago, she signed out over 165 pieces and she allegedly resold them to an unidentified Manhattan jewelry company, and then lied about their whereabouts.
She faces up to 30 years in prison if found guilty!
I guess she too had that dream of the little Tiffany bag we all girls secretly have, she just took it a notch too far!
You can find her Linkedin profile here.